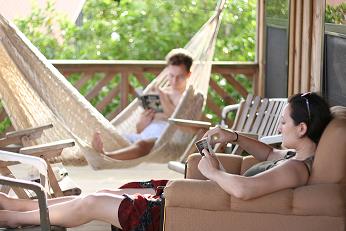 Elsa and Janne came to Honduras for the New Year holiday!
We were colleagues in Timor in 2005 and wanted to relax together on a sunny Caribbean island.
However, nothing went right during the holiday as though we still had been in Timor.
Upon our arrival in Utila, a Caribbean island, we learnt that the inn I had booked for us had given away our rooms to other tourists. So we had to look for whatever rooms available on the island on 31st of December! (Incredibly we found a nice ocean front cabana with balcony and kitchen!)
On the day we were leaving the island, the ferry back to mainland was not operating as the ferry company had its navigation permit expired and was in eternal negotiation in the capital to get a permit to leave the dock for the day, which left us sitting on the dock for more than 6 hours patiently waiting for the company to get a temporary permit.
To make it worse, most the cafes on the island were closed on that day to shelter us. At some point we became very pessimistic about the situation and bought tickets for a charter flight to get out of the island.
For once we were very grateful that we were no longer young backpackers and thus had enough cash with us to buy the tickets, as other younger backpackers roaming around the dock seemed to be stuck in the island forever. (Oh, ATM on the island was out of order on that day! A small detail.)
It was like being in the twilight zone, stuck in a cursed island where no one could leave and people were sentenced in the dock forever.
Finally the ferry left the dock in the late afternoon and we were exhausted.
Despite the above, however, it was great to reconnect and relax with the development friends. Being with Elsa and Janne in Honduras, I sometimes lost a sense of time and place, again in the twilight zone….
I felt as if I had been still in Timor, nothing in my life had changed since, and living in Honduras didn't seem real. Maybe I AM trapped in this strange twilight zone called "development"…. Scary!
But one of my New Year's resolutions is to enjoy what I am experiencing right now. So I will not worry about these stuff just yet. I will find the way out afterwards and for now be relaxed.
It was a good vacation.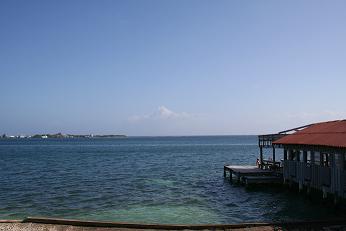 (Caribbean sea)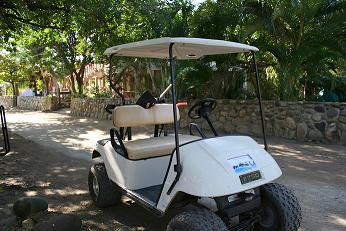 (Our cute golf cart)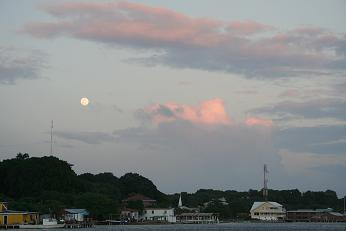 (Real twilight, with a rising full moon)